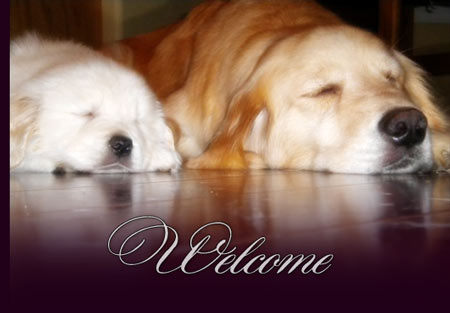 … to my new website!  I'm glad you stopped by. Feel free to browse around, and enjoy your visit!
February 6, 2018 – please read new information about dog foods posted on my News page.
""""""""""""""""""""""""""""""""""""""""""""""""""""""""""""""""""
Thank you for your interest in Aubridge Goldens! Proudly, we have been active in the breed, primarily in conformation, for over thirty years (initially under the kennel prefix of Robin's). Goldens are a wonderful breed and we have tried diligently to breed to the AKC standard, striving for that perfect Golden! The breed standard can be found either on the AKC website or on the Golden Retriever Club of America's website (also see the AKC and GRCA links on the Resources page).
Within my website you'll find information about my past and present Golden Retrievers and each will have their own page – please find their links listed under our dogs! There are also various pages that I will add new pictures!
Aubridge goldens are located in Sacramento, California.