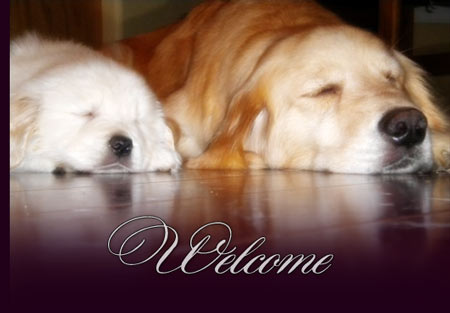 … to my website!  I'm glad you stopped by. Feel free to browse around, and enjoy your visit!
Aubridge Goldens have been busy in 2019! Please check out the dogs and their new titles and accomplishments on the News Page!
Lots of info here about recent research that indicates many dog kibbles which contain legumes (peas) and potatoes are causing taurine deficient Dilated Cardiomyopathy (DCM).  PLEASE read the links below.   This is beyond scary and DCM can be silent until the dog is going into Congestive Heart Failure or can cause the dog to have heart arrhythmia resulting in immediate death.
Link to most of the UC Davis research info
November 29, 2018 – It's Not Just Grain-Free: An Update on Diet-Associated Dilated Cardiomyopathy:
December 1, 2018 – Diet-associated dilated cardiomyopathy in dogs:
what do we know?
August 21,2018  – New info just posted on UCDavis website! Thank you again to Joshua Stern DVM for all that you are doing for our dogs!  For info on Nutritionally-mediated DCM
(Including, How to donate o the Cardiac Genetics and Pharmacogenetics Laboratory, Dog Food & Dilated Cardiomyopathy
and Golden Retriever Taurine Deficiency and Dilated Cardiomyopathy
August 10, 2018 – FDA providing more info on their investigation of grain-free foods:
https://www.fda.gov/AnimalVeterinary/ResourcesforYou/AnimalHealthLiteracy/ucm616279.htm
July 12, 2018  – FDA press release
July 19, 2018 – More on dog foods!   PLEASE read and SHARE this latest press release from UC Davis:
 https://www.vetmed.ucdavis.edu/news/uc-davis-investigates-link-between-dog-diets-and-deadly-heart-disease
June 5, 2018 – PLEASE read and SHARE new Tufts clinic nutritionist article Entitled:  A Broken Heart:   Risk of heart disease in boutique or grain-free diets and exotic ingredients on my News page.
""""""""""""""""""""""""""""""""""""""""""""""""""""""""""""""""""
Thank you for your interest in Aubridge Goldens! Proudly, we have been active in the breed, primarily in conformation, for over thirty years (initially under the kennel prefix of Robin's). Goldens are a wonderful breed and we have tried diligently to breed to the AKC standard, striving for that perfect Golden! The breed standard can be found either on the AKC website or on the Golden Retriever Club of America's website (also see the AKC and GRCA links on the Resources page).
Within my website you'll find information about my past and present Golden Retrievers and each will have their own page – please find their links listed under our dogs!  Upcoming litter information is also listed under dogs.  And, there is information and resources listed under the Resources page.
Aubridge goldens are located in Sacramento, California.