2020 has started off with two littermates picking up big majors the first weekend of January!
Announcing that "Becka" is now CH Aubridge She Otter be in Pictures @Longrun JH, WCX
Aubridge Goldens had a busy 2019!
We are proud to announce:
New Champion "Rhoda" – aka CH Aubridge Whadda Quack Up! – Owner Robin E. Baker (breeder)
New Champion "Baker" – aka CH Aubridge Never Give Up CGC – owners Jeff and Sio Wilson
New Champion and Dual Dog Hall of Fame  "Aubrey" – aka CH Aubridge Tres Chic SH WCX **  DDHF– owner Lisa Newton
New Champion "Contessa" – aka CH Aubridge Reigning Chic BN – owner Kristina Keller
New Champion "Rowdy" – aka CH Aubridge Ain't Misbeehavin at Alpengold – owners Ted and Linda Gomoll
New Champion "Stella" – aka CH Aubridge Bottoms up to CeCe CGC TKN – owner Traci McGrath
New BN, RN, RI and minored out "Bandit"  aka Aubridge Steel N Hearts in the Hood SH ** RI BN RN WCX VC – Owner Pamela McDonald
New JH and WC "Gess"  aka Aubridge Beeyond Words JH WC – owner Pamela McDonald
New JH and WC "Becka" aka Aubridge She Otter Be In Pictures @ Longrun JH WC – owner Bob Lutolf
New Outstanding Dam "Violet" aka CH Aubridge On The Purple Carpet OD – owner Robin E. Baker
New CGC TKN  "Aeon" aka Aubridge Loonsong's Won For The Ages CGC TKN – owners Kurt and Judy Macauley
Best in Specialty Sweeps "Hedger" aka Aubridge You Bet Giraffe  – owner Robin E. Baker
Best 4-6 puppy Specialty winner and Puppy Sporting group winner and AKC Puppy Achievement Award winner  "Crystal" aka Aubridge Clearly The Won – owner Robin E. Baker
July 19, 2018 – UC Davis Investigates Link Between Dog Diets and Deadly Heart Disease
July 14, 2018  –
FDA warns of possible link between food, canine heart disease
FDA warns of possible link between food, canine heart disease
July 12, 2018 – FDA Investigating Potential Connection Between Diet and Cases of Canine Heart Disease:
 https://www.fda.gov/AnimalVeterinary/NewsEvents/CVMUpdates/ucm613305.htm
JUNE 5, 2018 – this Tufts article is a must read if you have a dog.  Please share:
ATTENTION – all Golden Owners!  Please please please – read the labels of whatever dog food you are feeding!  Expensive foods do NOT mean they are better foods.  The ratings by the Dog Food Advisor are NOT reliable.  Here is an article of what is being discovered and researched about dog foods:
Researchers getting closer to understanding dietary taurine and heart disease in dogs
If you own an Aubridge Golden, and have ANY questions about the food you are feeding, PLEASE email me!
Here is some information about the study: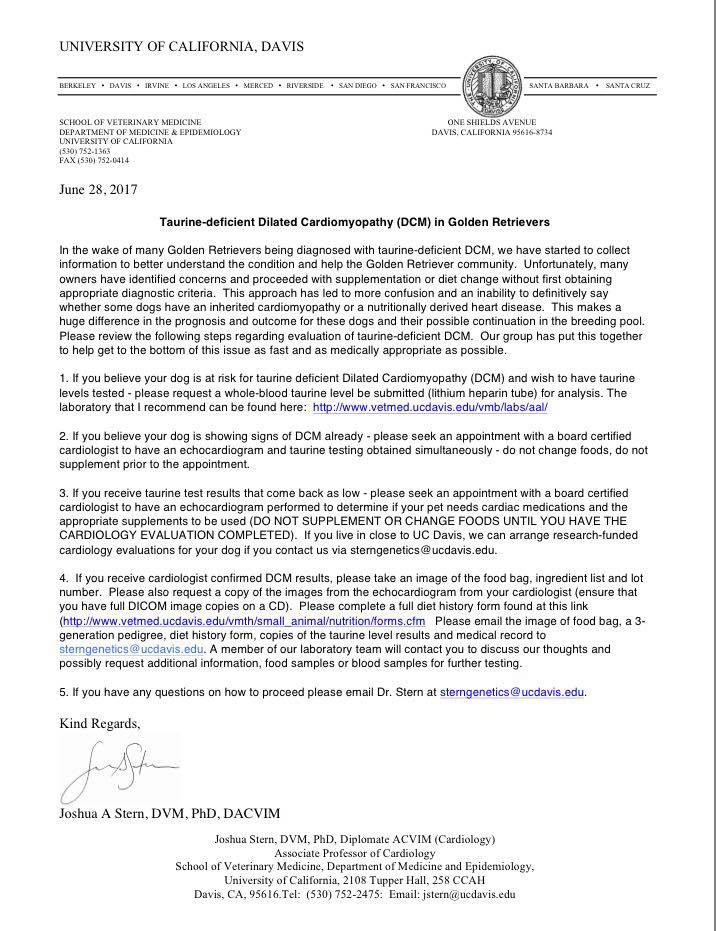 PLEASE also note:   dog food companies can change their formulas – and it may take time for the new labels to come out. I really want to encourage people to take their own time to do a little research on the dog food they choose to feed. I know we all are waiting for Dr. Joshua Stern's publication – and it is moving along in its process…. Let's be clear however, he has not and will not recommend or not recommend any dog foods- for very good reason! You will find that just because a dog food has peas – it may be suspect – but it may be okay. For instance, maybe it has taurine added to it – to boost the lack of meat based protein, None of this is simple – and I am certainly not a nutritionist – nor a DVM.  People are choosing to feed fancy dog foods – that resemble foods that we are people eat. Dogs are not people. Dogs needs are different than people. And, it is incumbent for reputable dog food companies to not only follow the AAFCO guidelines, but to also actually test the dog foods. Those foods which owners have fed only to find their dogs with low taurine, taurine-deficient DCM, or even CHF- most probably: do not have enough meat-based protein, and probably also have not had adequate testing to indicate that any potential resulting taurine deficiency has been addressed- i.e. taurine has been added to their dog food. Maybe the addition of legumes with fiber also affect digestibility and the conversion into taurine. The bigger dog food companies that have been around a long time actually have tested and continue to test their dog foods. Unfortunately, the smaller newer dog food companies seem to do better marketing of their foods -like suggesting that dogs will love pomegranates. And, many people for whatever reason, are suspect of the big dog food companies -and within there lies most of the problems…..Let me state for the record – there are three foods that I recommend and feed:    Eukanuba active performance 28/18  (It is 28 percent protein and 18 percent fat – the perfect combination for a normally active Golden; Purina pro plan (combining the Sport 30/20 and the Salmon sensitive stomach 26/16 – which gets to the 28/18, and finally Royal Canin Golden Retriever adult – for less active Goldens, and Royal Canin medium puppy and medium adult formulas.
February 13, 2015 – Lucky Friday the 13th was a great day for Aubridge Jelly Bean Boozler!  She won Best in Sweeps at the Long Island Golden Retriever Club and Best Puppy!   Huge congrats to owner Deb Hubbard!
October 19, 2014 was an exciting day for Aubridge Goldens!   Elmer – Aubridge Stuck On You – finished his championship with a big fat four point major….and that made his dam CH Aubridge Faux Paws an Outstanding Dam!
And, here is a little video of Elmer being shown by Larry Fenner that day:  http://youtu.be/9lu6asl-poI