| | |
| --- | --- |
| Hello! Since I have been unable to update this site, I will be eventually taking it down. PLEASE visit us at our new website (still a bit under construction): www.aubridgegoldens.com Thank you! | |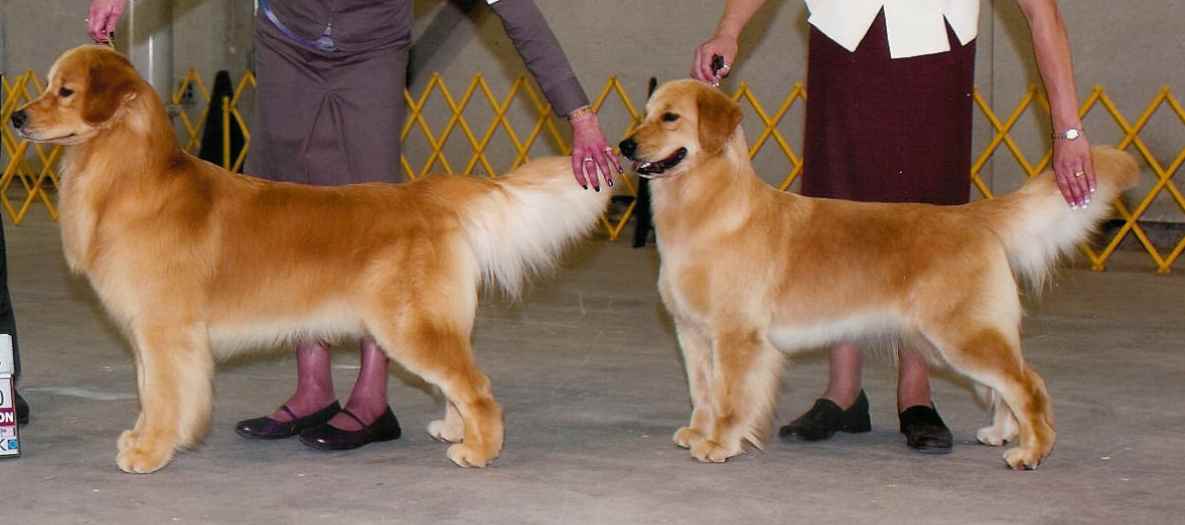 Reason and Gigi
Thank you for your interest in Aubridge Goldens! Proudly, we have been active in the breed, primarily in conformation, for over thirty years (initially under the kennel prefix of Robin's). Goldens are a wonderful breed and we have tried diligently to breed to the AKC standard, striving for that perfect Golden! The breed standard can be found either on the

AKC website

or on the

Golden Retriever Club of America's website

(also see the AKC and GRCA links below)

Within my little website here, Rhett, Spenser, Rachel, Senor, and Reason each have their own page – please find their links listed below! There are also various pages that I will add new pictures!

All Aubridge puppies are always evaluated in cooperation with other golden breeders for conformation (conforming to the AKC breed standard) and for temperament. These evaluations, which are done when the puppies are at least 7 weeks old, provide additional information which helps with the specific puppy placements! The goal is to place each puppy into a home where it is the perfect match for that home and where it will be able to successfully meet the expectations of that home!

Here are some more photos and videos from prior litters:

Please visit us at our new website: WWW.AUBRIDGEGOLDENS.COM

Current information can be found at: www.aubridgegoldens.com

Before acquiring a Golden Retriever puppy, I highly recommend that you read a publication that our National club, the Golden Retriever Club of America has put together entitled

"Acquiring a Golden."

This publication contains a wealth of information, providing a foundational education of the breed and its associated health and genetic concerns.  The

GRCA website 

also contains a listing of local golden retriever clubs and puppy referrals.

Aubridge goldens are located in Sacramento, California.



Last updated on 11/17/2014, 2:47:51 AM